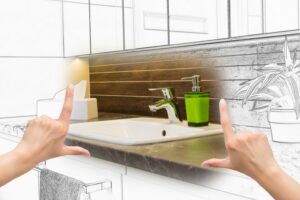 If you've come across this blog post, we're going to guess that your bathroom doesn't look the way you would like it to. Maybe it's not as functional as it could be, or you're having trouble moving around the space easily. Depending on what your specific needs are, a bathroom remodel can be a great idea! After all, aside from your kitchen, the bathroom areas are the most widely used rooms in the home. Remodeling can give you a beautiful new space to enjoy.
However, there are many considerations to make in order to have a successful bathroom remodeling job done. For instance, you need to consider your plumbing. This is probably a concern of yours, but you might not think of everything. For instance, perhaps you're considering having a low flow toilet installed to save water and money–but do you know how to properly size that toilet's rough-in? Or maybe you're going to install a DIY-shower. Do you know how to properly slope the floor so you don't have standing water?
Fortunately, our team is here to help so you don't have to think of any of these things or tackle your remodel on your own! Read on as we uncover a few more things to think about when attempting a successful bathroom remodel.
Consider Practicality
The first thing to consider with your bathroom remodel is not aesthetics, but rather practicality. We understand that the reason most homeowners even plan to do a remodeling job of any kind is because they don't like something about how their space currently looks. Remodeling gives people a great opportunity to update aesthetics! But this needs to be secondary.
You'll want to think about how easily you and your family will be able to use the toilet, the sink, and the shower. In addition, you can't forget that you need adequate counterspace for your toiletries. You need to consider the daily needs of your entire household before beginning to remodel the bathroom.
Consider Square Footage Limitations
Our very experienced plumbers will do what it takes to help you make effective use of your bathroom space, while meeting your vision of what the perfect bathroom looks like in the meantime. This does mean making sure that you're able to fit in the various plumbing appliances and fixtures that you want in the space. It's important to remember that bathrooms are crowded spaces!
Every bathroom has its limits when it comes to square footage. You'll eventually reach those limits, however, when you work with a qualified and experienced plumbing, you'll have professional help in determining how many of your goals you can realistically meet. We will help you along every step of the way.
Consider Common Bathroom Remodeling Mistakes
There are homeowners out there who've attempted bathroom remodels on their own. We tend to get called midway through the process or near the end of the process because of the following mistakes:
The toilets' rough-in was not properly measured to ensure that the toilet fits the space in the floor properly.
The drains haven't been properly vented.
The shower floor wasn't sloped properly, allowing for standing water.
These are all things you'll never have to deal with when you trust professionals for the job.
For professional bathroom remodeling in Hazelwood, MO, contact Performance Plumbing today!