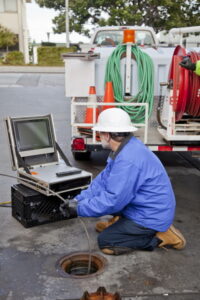 Facing a slow or clogged drain line in the home is something that no homeowner wants to deal with. Not only is it annoying, but it can bring simple tasks in your home to an indefinite standstill until it can be fixed. Fortunately, clearing out a clog is not a tough job for our team, and depending on how superficial of a clog it is, you may even be able to manage it on your own with a basic plunger or a hand-cranked drain snake.
We'll mention here, that it's never a good idea to use those store-bought drain cleaning chemicals–they can actually do more harm than good for your plumbing system.
What about when you can't clear that drain clog on your own though? or something seems different about it? Clogged and slow drains, especially when it's multiple drains in your home, may indicate something a bit more sinister. It could be that your home's sewer line has a clog–which is more serious than just a simple drain clog, as it can cause backflow into your home of wastewater, and other problems.
So how do you spot the difference between a basic drain clog and a sewer line blockage or some other sewer line problem? Read on to find out!