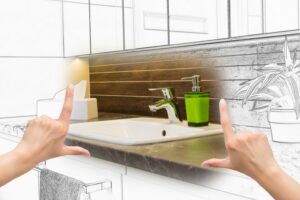 If you've come across this blog post, we're going to guess that your bathroom doesn't look the way you would like it to. Maybe it's not as functional as it could be, or you're having trouble moving around the space easily. Depending on what your specific needs are, a bathroom remodel can be a great idea! After all, aside from your kitchen, the bathroom areas are the most widely used rooms in the home. Remodeling can give you a beautiful new space to enjoy.
However, there are many considerations to make in order to have a successful bathroom remodeling job done. For instance, you need to consider your plumbing. This is probably a concern of yours, but you might not think of everything. For instance, perhaps you're considering having a low flow toilet installed to save water and money–but do you know how to properly size that toilet's rough-in? Or maybe you're going to install a DIY-shower. Do you know how to properly slope the floor so you don't have standing water?
Fortunately, our team is here to help so you don't have to think of any of these things or tackle your remodel on your own! Read on as we uncover a few more things to think about when attempting a successful bathroom remodel.