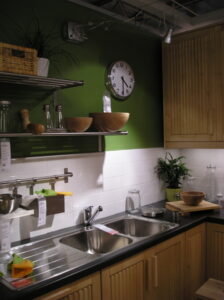 Remodeling your home is stressful, but add plumbing into the mix and it becomes an entirely different beast. Being organized and knowing what you want from the end result is key, and the steps to get there may be different from what you first imagined. If you're considering plumbing remodeling in St. Peters, MO, here are some important things to keep in mind.
Organization is Everything
Especially at the start of a project, everything needs to be organized. You need to know what changes you want, and your contractor needs to understand how many workers they'll need, what materials they're working with, and how long the project will take.
As a homeowner, early organization comes with the following benefits (and then some):
Quicker project timeline
Less time wasted on the daily disruptions caused by remodels
Overall savings compared to disorganized projects
Fewer last-minute changes and frustrations
More hands-off approach at later stages of the remodel
To make the process go as smoothly as possible, plan everything out as early as you can. Think of answers to questions regarding your remodel before they're even asked.
New Sinks or Shower May Require New Plumbing
Suppose you want to update the sink in a bathroom. It's a different material and it has an entirely new look to it, but it's the same size and in the same location as the previous sink. That reduces a lot of variables and makes the installation process easier (and cheaper).
However, it's not unreasonable to want a larger sink in a new location when you remodel a bathroom or a kitchen. But it comes with disadvantages.
New sinks, showers, and moving the location of major appliances may require new plumbing or modifications to your existing plumbing. It may also cause delays to your project completion timeline if your contractors aren't also plumbers.
Know the Appliances You Want First, Then Plan Around Those
Switching out appliances at the last minute is an enormous problem. When you design a remodel, you must know the appliances you plan to use first. This helps your contractor plan specific measurements around refrigerators with water lines, showers and their required drain size, sinks with additional features (such as spray nozzles), and more.
Planning takes place before action. Your contractors need to know how to plan for material costs, labor, and the timeline for completion, and they can't understand that properly without having a solid foundation to go off of. If you aren't sure which appliances you want, but you know you want to upgrade your current appliances, talk with your contractor in the early stages of development so they can help you decide.
Remodels Can Be Messy! Let Us Help With That
The process of remodeling your kitchen or bathroom can be stressful and disruptive to your home's routine. If you want your remodel to go as smoothly as possible, put the process in the hands of professionals you can trust.
Don't hesitate to call us to help you turn your home into a space you'll love! Contact Performance Plumbing today to schedule your next kitchen and bathroom remodel.