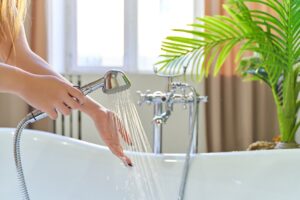 You're remodeling your bathroom, that much is decided. With any project, you need a list of priorities to handle first, cascading down to the less important tasks. This keeps everything organized, structured, and helps you stick to a timeline.
Prioritization is one of those things that are definitely easier said than done. Bathroom remodeling in O'Fallon, MO has its difficulties, so let's help you organize and execute your bathroom remodel like a pro.
Shower and Tub First
At the end of the day, you want to prioritize the most in-depth tasks first. You can DIY the mounting of a vanity mirror, but you can't exactly bang out a shower and tub replacement in an afternoon.
The first thing you should focus on is your shower and tub. Since this deals with your plumbing, you'll have potential restrictions that you need to consider. You should consider:
Shower fixture replacements
Materials for the wall/shower interior
Whether you want a door or curtain (or both)
Drains and drain covers
Shower shelves
Tub lining material
Your tub/shower is the most important part of your bathroom remodel. Make sure you treat it that way and the rest will come easier.
Bathroom Lighting
Some lighting solutions are simple. Others? Not so much. It's imperative to figure out how you want your bathroom to be lit, how you want your lights to look, and whether or not you want them to be recessed.
This is also the time to tie in your lighting setup to your vanity and counter ideas. Do you want a vanity with lights? In-drawer LEDs to help you sift through your belongings? Consider everywhere in your bathroom that you want lighting.
Counter and Vanity (Plus Storage)
Before we move on to flooring, it's time to figure out how you want the bathroom to be oriented. Where do you want your vanity and counter, and is the placement that important to you?
Keep in mind that moving your current counter setup requires additional plumbing. If you want it two feet to the right or on the other side of the room, you have to alter the current plumbing to make it work.
In many cases, it's best for your wallet and timeframe to leave the counter where it is. While you're factoring this in, you can think about extending the countertop in areas without plumbing. Take this time to plan out additional storage solutions such as built-ins, more cabinets, and drawers.
Flooring
Flooring is important, but as you can see, it's one of the last things you should worry about in terms of prioritization. Different flooring materials can have different heights, so it's important to factor this in before the remodel begins. Don't let flooring be an afterthought or you will limit your options.
Priorities First, Everything Else Second
Now that you know how to prioritize your bathroom remodel, it's time to spring into action and put your plan in place.
You know what you want, but you don't know how to take the next step. That's where we come in. Call us today and we'll help you get your bathroom remodel sorted in the most efficient and effective way we can.
Contact Performance Plumbing today to handle your next bathroom remodel. Don't settle for less.