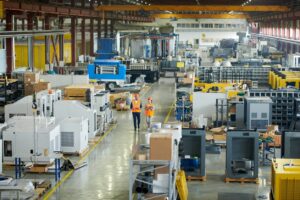 Commercial plumbing undergoes a lot more use and stress than residential plumbing. It makes sense to have a different frequency of maintenance than you do with home plumbing.
At least, that's what most people think. The truth is, whether it's residential or commercial, you only need preventative maintenance once per year.
Think about this: commercial properties use plumbing that matches the expected needs of the building. Annual maintenance is usually enough for commercial plumbing in St. Peters, MO for your properties.
Let's go into a little more detail and explain why.
Why You Should Get Annual Plumbing Maintenance
Plumbing maintenance prevents the loss of business from systems that may fail. The longer your plumbing system goes unchecked, the higher your chance of serious damage. Maintenance can catch plumbing problems and help with:
Operational advice: If professional contractors find anything wrong with your current plumbing system, they can fix it and tell you exactly how to prevent it (to the best of your ability) in the near future. Fewer problems for everyone, doesn't that sound nice?
Amazing peace of mind: Operate your business without wondering when the next major breakdown is. While maintenance can't prevent every possible problem from cropping up, it can do a wonderful job of preventing most of them.
Fewer emergencies: Maintenance doesn't completely remove the possibility of emergencies, but it should greatly reduce them over time. Especially in a commercial setting, 
Special Use May Require Twice a Year Maintenance
Most commercial properties use water in basic ways. Bathroom plumbing, dishwashing, cleaning, etc., but depending on what your commercial property does, it may use water differently.
Filling and filtering pools, excessive agricultural use, and unconventional use may require biannual maintenance. The more complex a water system is, the more often it should be maintained to ensure it doesn't break down on you.
Your Plumbing Company of Choice Should Be Familiar With Commercial
Commercial plumbing systems have different requirements than residential plumbing. Yes, it's all still water and pipes, but certain differentiating factors like water pressure, pipe placement, and access points will be different from residential systems.
Your plumbing company should know exactly what they're doing in a commercial setting. Beyond working on the plumbing system itself, commercial plumbers need to:
Identify the best way to not interrupt your usual business while working
Maintain a professional appearance and demeanor on the job
Work swiftly to handle your plumbing problems as fast as possible
Commercial properties can't just cease operations for every plumbing-related problem that pops up. You deserve to have a plumbing company who treats your business with the same level of respect that you do.
It's Time to Work With the Best
Your commercial property needs annual maintenance. If you suspect problems or are dealing with old plumbing systems that you aren't ready to replace just yet, biannual maintenance can't hurt. It beats unexpected breakdowns from wear and tear.
Our technicians specialize in commercial plumbing. From top to bottom, let us help you take care of your entire commercial plumbing system. It's time to stop settling for less.
Contact Performance Plumbing today to take better care of your facilities and commercial property plumbing from here on out.