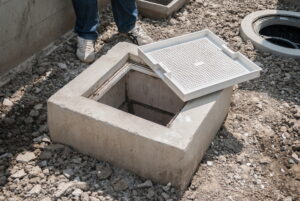 Your business needs a new grease trap, but the thought of the installation process is daunting. We're here to tell you that it's nowhere near as bad as you think, which is why we're going to walk you through a basic installation so you know what to expect.
When you get grease trap installation in Chesterfield, MO, it's important to have expert technicians handle the installation process to keep it as error-free as possible. Here's what you can expect.
Digging and Permits (for Outdoor Grease Traps)
Exterior grease traps are a much bigger installation. These can hold thousands of gallons worth of grease and require deep digging and a permit to even install. If your business is a restaurant or includes a commercial kitchen, you're likely going with an indoor grease trap.
Interior grease traps are installed somewhere near the sink in the kitchen. These are much smaller and the installation process is less invasive. You still need a permit for your indoor grease trap installation and perhaps an inspection.
Outdoor traps take longer to install and there are more variables you may run into during your dig. Indoor units are always much easier to install because they're above ground.
New Pipe Installation or Pipe Rerouting
In order for your grease trap to function as intended, some pipe rerouting is in order. Water will now leave through the grease trap, filter through the trap itself to separate solids and fats, oils, and grease (FOG), and then exit through your drain afterward.
That takes a bit of pipe reworking. Thankfully, this process is fairly straightforward. Your technician will be equipped to handle this with relative ease, even if new pipes need to be installed during rerouting.
Slight Disruption to Workflow
The installation will take a few hours for indoor units and one day (or more) for outdoor units depending on the size, difficulty of the dig, and any other obstacles you may run into.
Even for a few hours, you need to plan ahead so you don't run into huge problems with your business. There will be a disruption to your workflow unless you can time your installation around busy periods. Just be sure to account for this.
This would also be a good time to figure out when you need to schedule grease trap drainage services and plan ahead. This will help you work it into your workflow and not experience unexpected interruptions.
Schedule Your Grease Trap Installation Around a Good Time
Remember, there will be a slight disruption in your business' normal activities when you get a grease trap installed. Make sure that your installation doesn't interfere with your normal business (to the best of your ability) to make it as stress-free of a process as possible.
Outdoor vs indoor grease trap installation makes all the difference. Understand which unit you need and discuss a game plan ahead of time with your plumbers to make sure it goes off without a hitch. This may be the quickest plumbing-related installation you've ever scheduled for your business.
Contact Performance Plumbing for your next grease trap installation. We get the job done right.