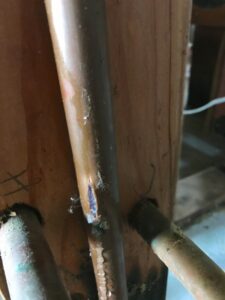 If you've lived through even one St. Louis winter, then you know just how impossibly chilly it gets! With that decline in temperature comes an unfortunately popular problem–frozen pipes. And, frozen plumbing has the potential to lead to a lot of damage if not properly addressed. The problem isn't so much the freezing itself, but the thawing. Thawing creates a negative pressure within the pipes, and this is what leads to your pipes bursting.
To protect your plumbing from this unfortunate end, there are a few things you can do. Read on to learn how to protect your plumbing by preventing frozen pipes. And if you discover any problems with your plumbing as winter comes upon us, be sure to contact our professional plumbers!
Preventing Frozen Pipes
The first step to take in avoiding frozen pipes is to open up your outdoor faucets. These are, of course, the pipes that will be the most prone to freezing. Ensure that you turn off water flow to these faucets, whether you use them for hoses or sprinklers… or any other outdoor application.
Leave these faucets open even after you've drained all the water from them. You may even consider getting insulated caps to put on your hose opening as well as faucet openings for an added layer of protection. Once you've done this, you can:
Disconnect Hoses
You probably have hoses that you use outside during spring and summer, right? Before temperatures drop any lower, disconnect these, let them drain, and then store them inside a shed or garage, if not inside your home.
Add Pipe Insulation
There are many plumbing pipes that run through your household that may be vulnerable to freezing temperature but that you still have to use each winter. This means they're pipes attached to faucets that you can't simply just drain and turn off the water supply to. This includes under-sink pipes, exposed pipes in the basement, and pipes running through your crawlspace.
To protect this section of plumbing pipes during the winter, you can invest in some pipe insulating sleeves, which can be picked up from your local hardware store. These help keep the temperature of the water flowing through your pipes from dropping too low and beginning to freeze.
Alternatively, you can achieve this with towels, if you'd rather go this route.
Keep Cabinets Open
You might be scratching your head at this tip, but bear with us. Plumbing fixtures within your bathrooms or kitchen are typically under your sinks or run behind the drywall that leads outside. This makes this part of your plumbing prone to freezing. But leaving your cabinets open allows the heat from your forced-air heating system to reach the exterior of these pipes, keeping them warm and making them less likely to freeze!
"What If My Pipes Freeze Anyway?"
This is a very real possibility for St. Louis residents. If this occurs, you don't want to try to thaw the pipes on your own–remember, we mentioned above that this can cause them to burst. Instead you should give our team a call, and we'll help!
Look no further than Performance Plumbing for your plumbing needs in St. Louis and the surrounding areas. Contact us today!