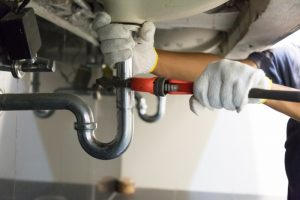 In the best-case scenario, a "plumbing problem" will mean that you have a drippy faucet or a pinhole leak that you may be able to, at least temporarily, fix on your own. Or perhaps you have a superficial clog in a drain that won't take anything more than a plunger and some good ol' fashioned "elbow grease" to relieve. In a worst-case scenario though, your plumbing problem will mean that you need repiping.
Repiping is when we replace old or faulty plumbing with new pipes. In many cases, you may only need partial repiping. But if you have an older home and a widespread problem, you may find yourself in need of whole-home repiping. Before investing in this service, you'd, of course, need to know how to recognize the signs that you even have a need for it. That's what we are here for! Read on to learn some of the telltale signs of a plumbing problem of this caliber.
You See Rust in Your Water
When the interior of your plumbing gets rusted or corroded, rusty flakes will start breaking off and will enter your home through the faucets. As a result you'll see a reddish-brown tinge to your water.
If this discoloration only occurs when you're using hot water, then the rust is probably within your water heater tank and not in your pipes. This is both good news and bad news. The good news is, you may not need any repiping! The bad news is you probably need a new water heater. The only way to tell for sure though is to have a trained professional come take a look.
You've Been Dealing with Leaks
Pinhole leaks or loose joints on your pipes causing a leak are both factors that are typically not too concerning. Our professionals can usually fix this up with some welding and tightening of components. But if you continually have leaks spring up in the same pipe or portion of your plumbing, then you might be dealing with corrosion—and a corroded pipe needs to be replaced.
Whether you have your plumbing inspected by a professional or notice corrosion on your own, this is a definite sign of a problem. It's actually good news if you discover corrosion before a leak, since that gives you time to manage the problem before it turns into a major leak.
You Have Lead Pipes
This isn't so much a "sign" as it is something you should look into. Lead plumbing is no longer allows in home construction due to the health risk that it imposes. If you live in a home that's a few decades old and you've never had your plumbing inspected, it's time to! Even though lead pipes last a long time and may not spring a lot of leaks, it's harmful and reason enough to invest in repiping.
Other Signs to Watch For
The above-mentioned signs are the biggest that we alert our customers too. The best thing you can do if you suspect anything is amiss with your plumbing system is give our staff a call to take a look. In the meantime, other signs you can watch and listen for that may indicate plumbing problems include:
A spike in your water bills with no explanation.
The sound of running water even though no appliances are on.
Warm spots on the walls (this can also be a sign of an electrical issue!) or under the floor indicating a leak in the hot water line.
For quality St. Louis, MO plumbing repair, contact Performance Plumbing today!