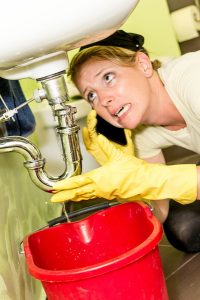 Homeowners often assume they can just get a general handyman to fix any problem they have—you pay less and they do an effective job, right?
Well, we know this seems like a viable solution to whatever your plumbing issue is, but your experience and the result will not be the same as if you had gone with a professional.
Our professional plumbers have been in the industry for a long time, so we have seen what can happen when homeowners believe in this common misconception. Plumbing isn't an easy job, and even something that seems simple could actually require special expertise.
It's vital that you hire a well-trained, licensed, and insured service professional when you need work done. Hiring a handyman might seem like a good way to save money, but hiring the wrong person for the job could actually leave you paying more to fix their mistake.
Hire a Pro for your Repairs and Installations
It's not just repairs you should trust a professional plumber for, but installations as well. Homeowners often mistakenly think that plumbing installations are simple, when in fact just a small mistake can lead to a huge problem.
Take your bathroom plumbing for example… let's say you install a toilet, but you don't know the correct rough-in size. A toilet that is too large or too small for the rough-in can't be properly sealed, and you'll find yourself either with a frustrating and preventable replacement to make, or with repair needs you weren't expecting.
"Okay, So How Do I Spot a Pro?"
There are a few factors to look for when picking a professional plumber—licensing, insurance, and training. In most jurisdictions, a plumber must have a set amount of experience in order to even qualify for what's called a journey level or specialty plumbing certification. Even at the lowest level, this enables a professional plumber to install, maintain, and repair plumbing within single family dwellings, duplexes, and apartment buildings under three stories tall.
Insurance is vital as well—in most cases, plumbing contractors must hold a minimum general liability insurance. This means that if your plumber causes any damage to your property, they will pay for it. It also means that if they're injured on the job, their company will be liable.
Proper training is essential! Professional plumbers in our area go through years of training to be able to do whatever plumbing job is asked of them with success. Under an experienced team, they're able to learn the robes, including how to diagnose and repair any plumbing problem your home may experience.
What Can Happen If You Use a General Handyman?
Choosing a general handyman for your plumbing job can leave you in a bind. How so? Read on…
They might choose the wrong tool to solve your plumbing problem and create even more damage.
They might lack the right inspection equipment, so finding a leak or clog could make a huge mess on your property.
Your plumbing installations can be done poorly or inaccurately.
They might fail to follow local codes.
When it comes down to it, a general handyman could do a poor job that requires you to call a pro and pay more to have it fixed anyway.
For expert plumbing and toilet repair in St. Louis, MO, contact Performance Plumbing!