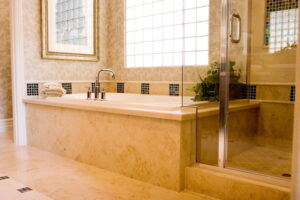 You're about to begin a shower remodel and you're curious about what to expect. There are some details you need to know before your remodel begins.
You can turn to the shower remodeling in St. Charles, MO residents trust as soon as you're ready to remodel your bathroom and shower.
1. It's Not Uncommon to Find Problems During Renovation
Nobody wants to add another problem to their to-do list, but in renovations and remodeling, it happens. Remodeling helps uncover issues behind tiling, in the cracks and grooves of your bathroom, and prevents certain damages from worsening.
Any time you plan out a bathroom remodel, there has to be an extra bit of budget to account for unexpected situations, like these. It's better to know and fix problems now rather than let them get worse over time.
2. You Can Remodel With Accessibility in Mind
A remodel isn't only about aesthetics. Many homeowners get stuck on the visuals with a bathroom redesign, and while that is important, you have the power to change how you use your bathroom. Not just what it looks like.
Factor in problems with medicine cabinet height, distance between your toilet paper roll and the actual toilet, and other small changes that could drastically improve your bathroom accessibility.
3. This is Your Chance to Improve Ventilation
High levels of humidity can promote mildew growth, damage your walls and furniture, and cause an unpleasant environment. If your bathroom ventilation isn't powerful enough to pull moisture from the air and make your bathroom feel comfortable, now is your opportunity to change that.
You can talk to your bathroom remodeling team about increasing your ventilation fan strength or adding an additional fan. This can both be seen as an investment in your comfort, and an investment in repair prevention for your bathroom.
4. This is Your Excuse to Illuminate
Thanks to the number of energy-efficient lighting options available today, you can improve the lighting in your bathroom without ramping up your electricity bill. As part of your remodel, consider low-energy lights that can completely illuminate your space. Better lighting also makes your bathroom feel larger than it is.
5. These Projects Take Time
Every project is unique. While there's no exact time frame and it will vary based on your specific plan, bathroom remodels are not a short endeavor. To make sure everything is installed properly, bathroom remodels may take an average of 2 to 4 weeks. Make sure you plan for your bathroom being out of commission for a good amount of time.
6. You'll Have Warranties on New Parts and Fixtures
As long as they follow manufacturer installation guidelines, many fixtures and new components in your bathroom will come with warranties. In the event that there's a problem with parts of your new bathroom, you may have coverage and replacement protection. This varies depending on the items you buy and brands you choose to buy from.
Be Prepared for Your Shower Remodel
Now that you know what to expect in your bathroom and shower remodel, you can plan for it every step of the way. You may run into hiccups, bumps in the road, or find unexpected problems that you weren't previously aware of as part of the process.

Contact us today to schedule your bathroom remodel and transform your bathroom.