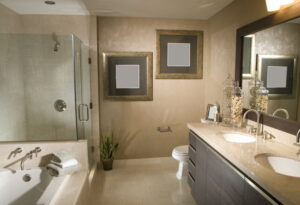 The Onyx Collection provides some of the most outstanding bathroom aesthetics that you can dream of, but it doesn't mean everything they create is perfect. Before you need the onyx repair in O'Fallon, MO residents trust, you can prevent wear and tear with a little bit of maintenance. Here's a quick checklist to keep your Onyx Collection looking pristine.
Cleaning Onyx Bathroom Products the Right Way
Solid surface products are made with a 63% Alumina design. This doesn't mean much on your end, other than the fact that you need to keep your countertops clear to prevent serious damage.
Using a simple solution or approved chemical cleaners, you can remove any surface texture that one may describe as "gritty." Coupled with a simple scrub brush, chemicals will deal with most of the problems you encounter with your Onyx countertops and surfaces.
Cut Away Excess Silicone
Have a little bit of extra silicone along the edge of your Onyx countertops? That's okay. You can cut that additional silicone off with simple tools, or use items such as electric sanders to reduce any jagged edges where your silicone used to be.
While this leaves some room for error, reducing or removing excess silicone from the edge of your Onyx countertops is fairly simple. Be sure to sand or smooth the edges down after removing silicone to prevent any unnecessary tearring.
Keep Surfaces Clear to Prevent Hard Water Buildup
Hard water buildup is difficult to get rid of later on down the line. While it is possible to remodel it from your Onyx countertops, you should work on reducing hard water buildup in the first place. Over time, a white, chalky substance can form on your countertops if you aren't careful.
Simple cleaning solutions, such as white distilled vinegar, help to break down thick buildup and dissolve it as quickly as possible. Just be sure to keep those countertops clear so this doesn't happen again in the future. Hard water buildup is something you'll likely always battle against.
It's Hard to Stain the Finish
Your Onyx Collection has a finish on the outside that's extremely difficult to stain. You want to be rough on hard water buildup, mildew growth, and any spills on your surface areas. Don't go so easy that you aren't sure whether or not you cleaned the area up properly.
As long as you aren't using extremely abrasive materials to clean with, such as steel wool or wired brushes, you're not likely to cause any long-term damage to your Onyx Collection surfaces. Wipe it down regularly and keep it dry to protect the finish as best as you can.
Call for Repair Before the Problem Gets Worse
These onyx countertops, showers, and bathroom accessories all look fantastic. Now you know how to keep them looking their best. If you run into any problems that require specific care from trusted professionals, you know who to call.
Contact us today to repair and maintain every piece of your bathroom's onyx collection so it keeps its luster for years to come.