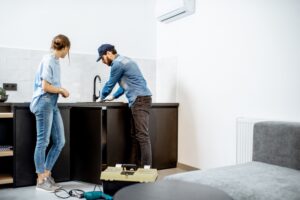 Planning a kitchen remodel–that is, planning a kitchen remodel that will be successful, starts with hiring the right contractors. While a general contractor has basic knowledge of what's needed for your kitchen remodel, it can be a crapshoot about the sort of subcontractors they choose, and therefore you may end up with electrical and plumbing problems when the job is done.
At Performance Plumbing, we are your local certified, licensed, and experienced plumbing contractor, and we are here to help with all the piping and plumbing appliance needs for your kitchen remodeling in St. Charles, MO. From kitchen sinks and garbage disposals to refrigerator water lines and dishwashers, we handle it all. Read on to learn more about how we can help you achieve a successful kitchen remodel, and when you're ready, give us a call!
Ensuring Everything Is Up to Code
One of the primary reasons it's so important to get specialized contractors for any type of home remodeling project is because they'll ensure that everything is up to code. This is relevant for both the electricity and the plumbing in your home.
You may have to move plumbing appliances and piping, and mistakes can be made. If those mistakes impact your main water line or sewer line–both of which are connected to the municipal water lines–you could have a huge headache by the time your job is finished.
A quality plumbing contractor will ensure that all the plumbing in your kitchen is running smoothly, safe, and not violating any building codes.
Making Sure Everything Fits and Works As Needed
A great plumbing contractor gets the job done right the first time! Trying to take on a project by yourself, trusting an amateur, or relying on a general contractor to find you the right plumber, with the right licensing and qualifications, can leave you with more problems than not.
There's also the matter of your plumbing material. Do you know what your current pipes are made out of? If your home was built prior to 1980, there's a very good chance you have plumbing that is susceptible to pinhole leaks and corrosion. The reason this is good to know is because the time during a remodel is the perfect time to replace or even reroute pipes.
This can help you avoid something like a messy and expensive slab leak–one of the most ominous types of plumbing leaks you can have in your home!
Starting Your Remodel with a Solid Plan
By hiring a professionally trained and experienced plumbing contractor, you'll know that you'll have a plan to get through the entire kitchen remodel from beginning to end. We can help you choose everything from a low-flow kitchen faucet to the right dishwasher. Finding the right contractor means looking at the type of experience they have, what their previous customers are saying in online reviews, and ensuring you're hiring someone who values your time. That's what we're here for!
For all your professional plumbing needs, look no further than Performance Plumbing! Contact us today.