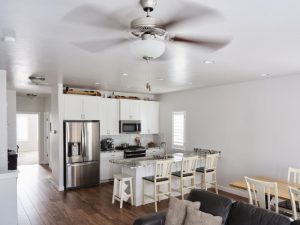 American homes throughout the decades have been built with the kitchen serving as the central focal point, for the most part. For this reason, when folks move into an older home, it's typically the first thing they want to remodel. That's great! There are definitely some factors to keep in mind though.
Sure, you've considered the outward appearance of your kitchen. But what about the hidden plumbing components? The water line that runs to your dishwasher, the one that runs to your fridge, and of course, your kitchen sink and garbage disposal system? And let's not forget to mention your gas lines, if you use a gas-powered stove!
As you can see, a kitchen remodel isn't a job to just jump into without some thought. Fortunately, we're here to help with the process. 
We'll Handle Everything, And the Kitchen Sink
Our experienced professionals can help with whatever your kitchen remodel plans are. We'll be able to educate you on what's realistic and what's not in terms of moving plumbing components around, if needed. One of the most common requests we see in kitchen remodels is that homeowners want to move their kitchen sink, but think that it's not possible. It is possible, you just have to think about where other components are.
For instance, your sink might not be able to go on the opposite side of the kitchen as your dishwasher, since the water line runs from the sink, and from the garbage disposal system if you have one. But you can move the kitchen sink to either side of the dishwasher–that part doesn't matter.
Are You Redoing the Flooring?
If so, this might be a great time to reroute the plumbing under your concrete slab! Older homes have pipes that are susceptible to corrosion and subsequent leaks. Unfortunately, these pipes usually run under the foundation of your home, and therefore leaks can do a lot of damage to your property.
If you're redoing your flooring anyway, you should talk to our professional plumbers about rerouting! Homeowners often have their hot water pipes rerouted to the attic. Though keep in mind that there are some parts of the country where this is not permitted due to building codes. In some cases, water pipes can be rerouted through walls and ceilings, and also insulated if needed.
Slab leaks are a lot bigger deal that homeowners often realize. They lead to cracks in the home's foundation, mold and mildew growth, and can ruin the flooring above them. If your pipes run under a carpeted area, that just adds to the mess. A kitchen remodel provides the perfect opportunity to consider all this and to see how you can work with a plumber to prevent this kind of plumbing catastrophe.
Work with Pros for Your Kitchen Remodel
It's easy to plan a kitchen remodel on your own, but that doesn't mean it's always the best idea. There are a lot of intricacies involved and even the smallest mistake can lead to professional repair needs anyway. Save yourself the headache and give our staff a call when you're ready to begin your kitchen redo!
For professional kitchen remodeling services in St. Louis, contact Performance Plumbing today!