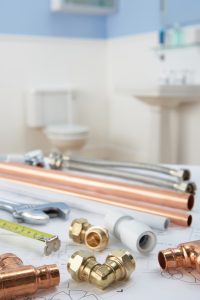 Throughout the years, there have been many different materials put to use for constructing plumbing pipes. During much of the 20th century, for instance, metals such as galvanized steel (this is steel coated pipes coated with zinc to prevent corrosion) and cast iron were most commonly used in residential settings.
Cast iron was rather quickly found to be ineffective at preventing corrosion, while galvanized steel was replaced around the 1970's in favor of a more lightweight option—copper. In addition to being lightweight, copper has better corrosion resistance, as does the other two modern types of plumbing pipes you may see: PVC and PEX piping.
Homes today tend to use either one of these plastic pipes or copper exclusively throughout the property. However, if your home is one of the many in our area built prior to the 1980's, then it may have piping, fixtures, or even elbows and joints made of the outdated material. And if this is the case, by nature there is a very good chance you need repiping. This is a service provided by our professional plumbers in O'Fallon, MO, and could do your home a world of good. But, how much repiping do you need?
Partial Repiping or Whole-House Repiping
If you are considering any amount of repiping, it's likely because you've either noticed signs of plumbing failure, or a plumber has. These signs include decreased water pressure, various or consistent leaks, or even brownish discoloration in the water. These are all indications of aging pipes that should be replaced. Now the question is, should you have a few old pipes swapped out for copper or plastic, or would it be better to have whole-house repiping done?
Either type is a large job, and one that requires a licensed and experienced plumber to complete, but neither is insurmountable for our team! Generally speaking, if your home was built in the 70's or 80's, it's unlikely that it was completely constructed with the outdated piping, and you may just need some sections replaced. Your plumber may be able to identify specific steel joints or sections causing your problems, and can recommend other updates as well that may help.
If your home is over 5 decades old, however, it's best to be prepared for a whole-house repiping recommendation. We're happy to help you make an educated decision on whether this would be best for your household, and if whole-house repiping is the best choice, you'll be glad to get it done.
Getting an entirely new plumbing system, in this case, means ridding your home of potentially toxic materials that could make their way into your fresh water—not to mention you'll have fewer repair issues, better drainage, and increased home value. So long as it's accurately installed and well cared for, new copper or plastic piping can give your home another 50+ years before it needs a major change to the plumbing system.
Whether you need repiping or another type of plumbing service, you needn't look any further than Performance Plumbing. Contact us today!