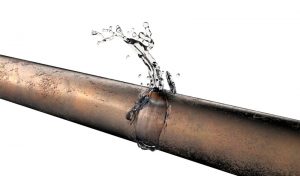 We get it—if you can avoid calling for emergency plumbing services, you will. Our professional plumbers in Kirkwood, MO are ready for anything of course, since we understand that plumbing problems don't tend to obey schedules or calendars, nor do they care that you are sleeping or were just about to leave the house on vacation or to go to work. When you need a burst pipe or gushing broken faucet fixed, we'll be there.
But, let's talk prevention! Again, you don't want to be in a situation where you're calling up a 24-hour service plumber. We're sure you'd also enjoy having peace of mind about plumbing problems when you can't call for a plumber because you don't even know there's a problem (i.e. you're away from home when a fixture breaks, spreading water throughout your home). In a case like this, there's one very important component that will save you from property damage and unnecessary associated costs—the automatic shutoff valve.
Prevent Flooding from Plumbing Disasters with This Component
There isn't a single home in which we wouldn't recommend the installation of an automatic shutoff valve. Also called an emergency shutoff valve, it's attached to the main water line as it enters the home, close to your manual shutoff valve.
Do you know where your manual shutoff valve is? While we're talking about automatic valves in this post, it's important that you locate your manual valve too, since at some point you might need to shut off water to your whole home. We hope you never need to due to an emergency, but the fact is that this could happen.
An automatic shutoff valve, as the name implies, automatically shuts off water flow into your home on its own when that water begins flooding from a burst pipe or other plumbing fiasco. There are different ways this can work. One of the most common methods an automatic shutoff valve uses is a pressure sensor. When there is a sudden drop in water pressure, it usually means water is being lost through a large leak. The pressure drop will cause the valve to swing closed.
Another method is sensors strategically placed around the house, such as in the basement, which detects water where it shouldn't be and then sends an electronic signal to the valve to close. In the case of a water leak emergency, the shutoff valve closes off the flow of water to the house so no further damage is done from the burst pipe or plumbing problem.
From there, you can arrange for necessary repairs at your convenience, without the panic that usually goes along with plumbing emergencies. Best of all, your automatic shutoff valve will offer you the peace of mind that you already basically have an emergency plumber standing by and guarding your home.
Whether you're looking to have a shutoff valve installed or need service for your existing automatic shutoff valve, we're the team to call.