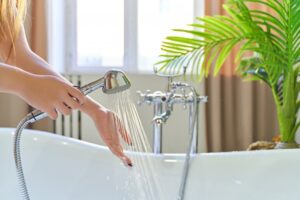 Did you know that the average person spends more than 2 years of their life in the bathroom? If you're going to spend so much time in there, it's nice to have something pretty to look at! 
Not surprisingly, bathroom remodels are one of the most popular types of home improvement projects. If you're considering diving in, here are a few tips for a successful bathroom remodel.
1. Choose the Right Colors
Bathrooms tend to be smaller rooms and choosing the wrong color can make them seem cramped and tiny. Darker colors make a space seem smaller and cozier, which doesn't always work in a bathroom. 
Go for lighter, brighter colors that will visually open up the space. It's amazing how much just the color you choose can affect the visual size of the room. 
2. The Right Lighting
When planning St. Louis, MO bathroom remodeling, think about the lighting as it also has an effect on the apparent size of the space. People often like directed lighting in a bathroom for putting on makeup or inspecting their appearance so be sure to put lights around the mirror for this purpose. 
However, you need ambient lighting in the rest of the room as well. Otherwise, the space will seem smaller and more closed off. 
3. Add Hanging Space
Tired of having towels and small items always on the bathroom counter? Use the walls instead!
Add hooks for towels, clothing, and other items that you can hang. Shelves are great for small items like personal care products, tissues, and a toothbrush holder. 
4. Add a Mirror
This is a great tip, especially in a small bathroom. Mirrors are another awesome trick for making a space seem bigger. Plus, they help bounce the light around so that the bathroom is more well-lit without having to add more lights. 
5. Install Wainscotting or Tile to Protect the Walls
Bathrooms are wet places and water doesn't mix well with typical wall materials. A great way to protect your bathroom walls from water damage is to install wainscotting or tile on the lower sections of the walls. 
Why Hire a Professional for Your Bathroom Remodel?
There are definitely simple tasks in a bathroom remodel that savvy DIYers can handle themselves. However, there are also some tricky aspects, particularly if you'll be adding new plumbing fixtures. 
For example, do you know how to slope the shower floor for proper drainage? How about correctly sizing a toilet? (Did you even know you had to think about toilet size?)
It's always nice to save a little money on projects like this. But all too often, homeowners bite off more than they can chew. In some cases, fixing the problems they create becomes more expensive than hiring a professional from the start!
Don't hesitate to contact us to help you turn your bathroom into a space you'll love!
Reach out to Performance Plumbing today for professional and reliable plumbing services.